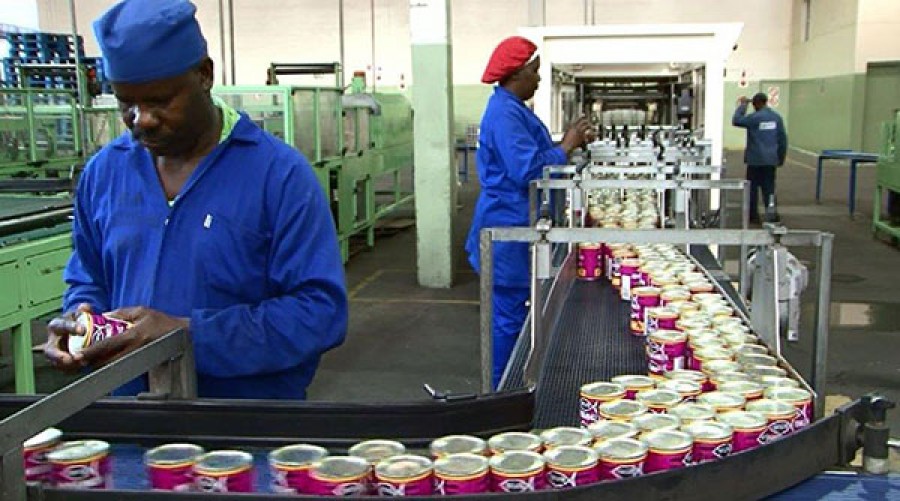 Sales volumes of Etosha Fishing's locally caught and canned horse mackerel product, Efuta Maasbanker, have increased nearly five fold since its introduction to the local retail market at the start of 2014.
"We are absolutely delighted by the uptake of Efuta Maasbanker since its inception. During the first year of production we sold an estimated 80,000 trays. This more than doubled in 2015 to 180,000 trays and again in 2016 with an estimated 390,000 trays sold," Etosha Fishing MD Pieter Greeff says. This translates to nearly 4.7 million cans sold in 2016 as a tray holds 12 cans.
Efuta Maasbanker was born out of a joint venture agreement between Etosha Fishing and Erongo Marine Enterprises in November 2013, which resulted in the canning of 200 metric tonnes of locally caught horse mackerel as a trial run. The newly canned product was officially introduced to the Namibian retail market through Shoprite in December 2013 and is currently distributed by CIC Grundleger to nearly all local retailers.
The new value addition venture was in direct response to an on-going appeal by the Namibian Fisheries Ministry for employment creation and value addition in the horse mackerel sector, which is in line with the Government's Vision 2030 policy framework. The venture also allows for a more sustainable fisheries operation with secure, long term employment for more Namibians.
"The project was driven by Minister Esau's vision to put Namibia's most abundant fish resource in a can, offering the nation an affordable, nutritious meal from the sea delivered in robust packaging that has a long shelf life. But to can horse mackerel and think that your product will take a major share of the market is nothing short of ambitious. We had to ensure that we introduce a quality product," says Greeff. He adds that Efuta Maasbanker was the first Namibian canned product to receive the Namibian Standards Institution's (NSI) Standard Mark of Conformity product endorsement. It is also Halaal certified and carries the Team Namibia product mark.
Since Efuta Maasbanker's introduction, Etosha Fishing has responded to market research and feedback to optimise sales. The product was initially launched in three flavours, namely tomato sauce, chilli and salt water – the latter being discontinued in recent years due to poor sales. In 2015 the smaller 155g jitney can was introduced, but was withdrawn shortly thereafter due to poor uptake. Efuta Maasbanker is now only sold in the 400g can size. Plans are on the cards to introduce a curry flavour. The label design has also since been refined to make it more attractive to consumers.
Despite the short term success of Efuta Maasbanker, Greeff cautions that the profitability of the product only really becomes viable with sales in excess of 2 million trays. He adds that the price is kept as low as possible to ensure affordability, which makes effective marketing and market expansion into foreign markets extremely difficult. Focus therefore remains on the local market.
"Despite past and current challenges, Etosha Fishing is extremely proud to produce a quality product such as this, caught and canned in the Land of the Brave. Through this endeavour we have once again committed ourselves to the creation of jobs and value addition to one of Namibia's most valuable fish resources," Greeff concludes.
Established in the 1940s, Etosha Fishing Corporation is a leading player in the Namibian fishing industry and is considered to be one of the major round can production facilities in the world. The company subscribes to the vision "excellence in food processing" and operates under HACCP compliance and EU Accreditation. All its products comply with the South African National Regulator for Compulsory Specifications (NRCS) and Namibian Standards Institution (NSI) regulations and standards.
---